GJAKOVA
Qyteti i Gjakovës shtrihet në bregun e majtë të lumit Erenik ndërkaq nga të dy anët e përroit Krena shtrihet kodra e Çabratit. Lartësia mesatare mbidetare e Gjakovës është 365m. Qyteti gjendet në gjatësi gjeografike në mes të 42.24 shkallë në veri dhe 20.26 shkallë në lindje.
Sipas të dhënave arkeologjike të bëra nga ekipet e përbashkëta nga Shqipëria dhe Kosova, në territorin e Gjakovës, në bazë të materialeve të gjetura është vërtetuar se i përkasin kulturës antike është vërtetuar dhe dëshmuar se këto treva kanë qenë të banuara edhe më parë.
Gjakova si qytet më këtë emër daton nga shekulli XV, por lulëzimi i vërtet i saj fillon në fund të shekullit XVI dhe në fillim të shekullit XVII. Nga kjo periudhë veçojmë ndërtimin e Xhamisë së Hadumit në vitin1554, Mejtepit, Bibliotekës, Haremit, Hamamit, ndëtimit të Sahat-Kullës, Medreses së Madhe, Hanit të vjetër, Kompleksit të Teqës së Madhe si edhe urave lidhese të qytetit mbi lumin Krena, si ajo e Tabakut, ura e Taliqit etj.të cilat edhe sot ekzistojnë.
Komuna e Gjakovës sot ka 586 km katrorë të cilën e përbëjnë qyteti dhe 84 fshatra.
Sipas regjistrimit të fundit i bërë në vitin 2000 nga UNMIK-u, komuna e Gjakovës ka 150.800 banorë, duke e renditur si komuna e tretë për nga madhësia në Kosovë.
Komuna e Gjakovës ka lidhje të mira me rrugë të asfaltuara me qytetet e Prizrenit, Pejës, Rahovecit, Klinës, Prishtinës, Deçanit, Malishevës etj.
Ë shtë me rëndësi të ceket se Komuna e Gjakovës pas luftës së vitit 1999 ka lidhje edhe me Republikën e Shqipërisë, përmes dy pikave kufitare ate të Qafës së Prushit dhe Qafës së Morinës.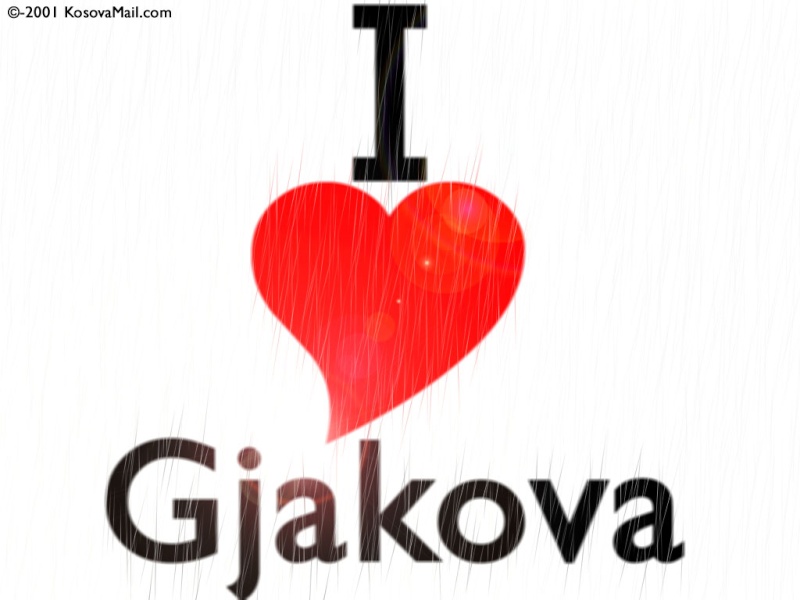 Gjakova municipality covers an area of 521 square kilometers, consisting of the main town and of 84 villages. Gjakova is situated 360 meters above sea level, at a strategic position between the Albanian border and the heartland of Kosova.
It is connected to other centers through four major regional roads, including to Pejë/Pec, Prizren, Prishtinë/Priština, and to the Albanian border crossing Qafë Morinë. The UNMiK Registration Office estimates that currently 150,000 people live in the municipality, approximately 90,000 in the town and 60,000 in the villages. However, there are no exact figures and the true number of inhabitants is likely to be higher. Its population before the 1999 conflict was an estimated 145,000 inhabitants, 75,000 in villages and 70,000 in the town. The ethnic composition before the conflict was 93% Kosovar Albanians and 7% non-majority communities, including some 3,000 Kosovo Serbs, who mostly lived in the main town.
Religion, Places of Worship, and Cultural Institutions
The old town of Gjakovë/Ðakovica developed around the Hadumi Mosque, was built in the 15th century and is now a UNESCO World Heritage Site. It was severely damaged during the 1999 conflict, but has now been almost fully restored in its original style. The old town is today the largest bazaar in continental Europe, outside Istanbul. While Catholicism still has a strong following amongst the Kosovar Albanian population in the municipality (app. 30%), the majority of inhabitants are of the Muslim faith (app. 70%). It is not uncommon to find both religions represented in the same family and, in general, the unifying element (as ethnic Albanians) clearly prevails over a possible dividing one (religious affiliation). Pre-1999, more than 20 mosques existed in the town; now there are 10. A further 33 mosques are to be found in the surrounding villages. The Catholic population is spread throughout the Municipality in five parishes: the town of Gjakovë/Ðakovica; Bishtazhim/Bistazhin; Novo Sella; Beci; and Doblibare. A new Catholic church in the centre of town has been under construction since early 2002, on the site of a previous church. In addition, after the arrival of the international community, several missionaries settled in Gjakovë/Ðakovica and set up ten gospel churches and have growing support amongst the Kosovo Albanians. The so-called 'Tarikats', a Dervish order, are also prominent in Gjakovë/Ðakovica municipal life. These groups stem from a religious heritage of active members in society giving protection and assistance to others in the community. They usually congregate in family houses to discuss local problems and give both practical and spiritual inspiration to those in need. Formerly made up of all ethnicities, today seven such groups are active (Bektashi, Kadri, Havleti, Nakshipendi, Rufai, Saadi, Shazeli), although only Kososo Albanian members remain.
Cultural activities are concentrated within the framework of the town's Cultural Centre, including a public library, theatre, cinema (not currently operating), and the office of a local radio station, Radio Gjakova. Two professional choirs and numerous folk bands operate as well. A Museum of History and Revolution and an Ethnographic Museum are located in the main town.
Economy
Gjakovë/Ðakovica used to be a major industrial centre in Kosovo, with some 27,500 persons employed in industry and services until the end of 1988. The economic situation deteriorated severely over the next ten years with a near complete lack of investment. This was only exacerbated as a result of the 1999 conflict, with overall damage to industry estimated at € 90 million. Since then, around 3000 private businesses have been registered with the Municipality, employing approximately 7,000 people. Of these, about 95% are small or medium-size enterprises, with the principal sectors including textiles, metal processing, warehousing, and transportation. Nevertheless, 30,000 people have so far registered with the municipality as unemployed, although most observers estimate the real figure to be much higher, at around 80%; the economy continues to be the biggest problem for the local administration. There are 60 socially owned enterprises (SOEs). Most SOEs either produce a fraction of their pre-war turnout (and certainly their capacity) or have not restarted production since 1999; instead they employ administrative staff just to keep the warehouses in use.
Kosova > Gjakova
Gjakova (pronounced: Jah-ko-vah') is situated in western Kosova. It is a town with around 60,000 people, situated on the banks of the river Erenik, in the proximity of the Mal'sia e Gjakov's (Mountainside of Gjakova), the largest part of which is in the territory of Albania.
Gjakova is a Kosova town with a somewhat combined oriental and modern appearance. The old shopping center situated near the old mosque and the Grand Dervish Ritual Hall (Tekia e Madhe) is full of quaint old shops and crafts workshops.
The center of the town has been rebuilt with a new hotel, the Pashtrik Hotel, and several shopping centers and the large "Agimi" department store.